New!
Reissue JP 80-ies pop
Through the years folks have been asking for this 80-ies JP Den Tex pop sampler! Although young Den Tex may still be looking for a voice here, the songs on "Hungry Years (1980-1986)" already stand out because of their songwriting and storytelling qualities, taking us back to JP's boho years. Love gone awry (on A Quiet Street In Paris), personal bankruptcy (on Low Budget Rider and C'est La Vie Bon Bon), recurrent periods of depression and the consecutive soulsearching that comes with it (on Clever Fool and Cold War Children). Apart from ten captivating songs there's a bunch of excellent musicians on these tracks, like Ulco Bed (saxophonist Candy Dulfer's guitar player), Willem Ennes, Tom Barlage, Hans Waterman and Harry Hardholt (all from well-known progrog band "Solution"), drummer Kees Meerman (from Herman Brood's original "Wild Romance") and guitarist Michiel ("Oh Boy") Jansen, just to name a few. Release expected some time in August/early September (label Comme Les Chansons).
Hier wordt al jaren om gevraagd: een digitale selectie JP liedjes uit de duistere jaren tachtig! Eind augustus komt er eerst een single uit ("What True Love Can Do to Your Soul"), in september gevolgd door het verzamelalbum "Hungry Years (1980-86)". Op het Comme Les Chansons label. Ook beschikbaar op iTunes, Spotify en Deezer.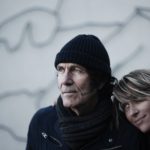 Last 'live' Wolf in  Amsterdam, on March 17 2019
Final stage of the 2017-2019 Wolf!  tour: at Nieuwe KHL and Countdown Café, Amsterdam. Click here for the video of "Bankrupt Today". From the album Wolf! released on Cavalier Recordings (2017, Folk Nouveau). You can buy the cd by clicking here
Op zondagmiddag 17 maart 2019 vond er een laatste integrale "live" voorstelling van Wolf!  plaats, in de muzikale vorm die er ooit voor bedoeld was. Samen met snarenspeelster Yvonne Ebbers en violist Diederik van Wassenaer bracht JP nog één keer het onversneden wolvenepos voor het voetlicht. Het enthousiaste publiek in de Nieuwe KHL kon er geen genoeg van krijgen en ook voor muzikanten en crew was het een waardige derniére.  In de aanloop naar het optreden traden JP, Yvonne en Diederik op voor Countdown Cafe. Hierbij de registratie van het wonderschone "Bankrupt Today". Voor de video klik hier
New On Spotify: This Is JP Den Tex!
JP created a special playlist with his personal favourites. He selected 30 essential tracks, starting with the Emotional Nomads album and ending with 2 tracks from Wolf!, his latest cd. Open your Spotify and type in  JP DEN TEX or simply click here.
'Neil Young Ontsloten', nieuwe Storyteller Special!

In zijn spraakmakende reeks 'Storyteller Specials' gaat gastheer JP den Tex – samen met zijn vaste gasten Kees Prins, Paul de Munnik, Edo Donkers, Vera van der Poel en violist Diederik van Wassenaer –  deze x op zoek naar de sleutel tot de tobbende lyriek van Neil Young. Is hij nog steeds 'a miner for a heart of gold', speurend naar zuiverheid en ware liefde? Of zingt hij tegenwoordig – sadder but wiser – "Young man, take a look at yourself, I was just like you are"? In 'Neil Young Ontsloten' volgt het Ronkend Asfalt Collectief  de singer-songwriter op zijn eenzame tocht over de snelweg van het leven. Tevens onderzoekt het de creatieve coöperaties van deze onverbeterlijke romanticus, illustere bands als Buffalo Springfield, Crazy Horse en CSNY. En natuurlijk zijn er ook dit keer weer mooie NL vertalingen, relevante achtergrondverhalen en smeuïge anekdotes! Plaats van handeling het Amsterdamse Betty Asfalt Theater – op woensdag 9 en donderdag 10 oktober – alsmede de Nijmeegse Thiemeloods, op donderdag 17 oktober. Wees er snel bij, want beide intieme speelplekken kennen maar een beperkt aantal plaatsen! 
Aanvang 20.30 uur, entree 19,50 Euro. Voor tickets, ga naar Calendar