New!

Beatnik Americana
We started a new documentary series on Facebook, "Tomorrow Never Knows". Every Thursday a new episode. Here's a little prelude…
"In  2000 our record company Bedrock arranged for the making of a special DJ remix to the catchy tune "Maddalena", one of the popular tracks on our Hotel Yankee Tango album. The Americana sound of the original song was tweaked into a slightly more 'commercial product', which at the time raised a few eyebrows among my band members. Part of the plan was a videoclip with the famous Jiskefet threesome (Kees Prins. Michiel Romeyn & Herman Koch), the Dutch equivalent of Monty Python. Actor Michiel Romeyn directed the clip. For this occasion I bought an expensive Armani T-shirt, which made me look a bit lost in the overall party mood, especially without my musical buddies by my side. But there's some nice footage in the clip, after all these years it's still fun to watch!"
https://www.youtube.com/watch?v=6LU4bzAyRJ4

  pic by Corbino
Reissue JP 80-ies pop
Through the years folks have been asking for this 80-ies JP Den Tex pop sampler! Although young Den Tex may still be looking for a voice here, the songs on "Hungry Years (1980-1986)" already stand out because of their songwriting and storytelling qualities, taking us back to JP's boho years. Love gone awry (on A Quiet Street In Paris), personal bankruptcy (on Low Budget Rider and C'est La Vie Bon Bon), recurrent periods of depression and the consecutive soulsearching that comes with it (on Clever Fool and Cold War Children): they all get a landing spot, without bringing the listener down with them however 🙂 Apart from ten captivating songs there's a bunch of excellent musicians on these tracks, like Ulco Bed (today saxophonist Candy Dulfer's guitar player), Willem Ennes, Tom Barlage, Hans Waterman and Harry Hardholt (all from well-known progrog band "Solution"), drummer Kees Meerman (from Herman Brood's original "Wild Romance"), bass player Jaap van der Sluijs and guitarist Michiel ("Oh Boy") Jansen, just to name a few. Cover photo by Maarten Corbijn (Corbino, 1986), artwork by Henk Brink (2019). Official date of release Monday August 26, 2019, album out on Comme Les Chansons. To buy the album click HERE
Hier wordt al jaren om gevraagd: een digitale selectie JP liedjes uit de duistere jaren tachtig! Op maandag 2 september a.s. komt het verzamelalbum "Hungry Years (1980-86)" uit. Op het Comme Les Chansons label. CD vanaf vandaag beschikbaar op CDBaby en JP Den Tex/iTunes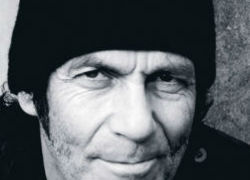 pic S. de Goede
Storyteller Special: De Laatste Wals
Feestelijke afsluiting van de spraakmakende reeks Storyteller Specials, die vanaf 2017 twee keer per jaar op de planken van Betty Asfalt Theater, Amsterdam en Thiemeloods Nijmegen werd gebracht. Gastheer JP den Tex vertelt het boeiende verhaal van de totstandkoming van de muziekfilm The Last Waltz (november 1976), het slotconcert van de Amerikaans-Canadese rockgroep The Band. Uiteraard staan de liedjes van bandleider Robbie Robertson centraal, maar ook Dr. John, Van Morrison, Neil Diamond, Bob Dylan, Joni Mitchell en Neil Young deden op 25 november 1976 in San Francisco een muzikale duit in het zakje. Dat betekent dus meteen een hernieuwde kennismaking met een aantal Storyteller oudgedienden! Voor dit slotgala staat de vaste ploeg weer voor jullie klaar: Kees Prins, Paul de Munnik, Vera van der Poel, Edo Donkers, Yvonne Ebbers en Diederik van Wassenaer. En vanzelfsprekend zijn er – óók deze keer – mooie NL vertalingen, sappige achtergrondverhalen en smeuïge anekdotes.  2 & 3 september, Betty Asfalt Complex, Amsterdam (2 intieme Corona voorstellingen op 1 avond met gereduceerde, eenderde zaalbezetting) , om 20.00 uur en om 22.00 uur. 9 & 10 september, Thiemeloods Nijmegen, zelfde concept, ook 2 voorstellingen op 1 avond met beperkte zaalbezetting. Kaartbezitters zullen door de desbetreffende theaters per email op de hoogte worden gebracht.