New Projects
11 – 07 – 2016
Valerie Granberg just finished the editing and post-processing of her documentary "Je Bent Mooi Als Je Bent". About a bunch of soulful, expressive musicians with a mental disability… I had the privilege of being their producer. Watch the trailer HERE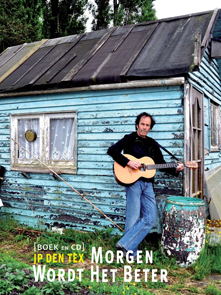 09 – 26 – 2016
My book "Morgen Wordt Het Beter" ("Tomorrow Will Be Better") received a nomination for the RABO Cultuurprijs 2016.
For interview Noordhollands Dagblad, click HERE
https://www.bol.com/nl/p/morgen-wordt-het-beter/9200000019662950/ 
Past Projects: Emotional Nomads

"Emotional Nomads" was the name of JP's backing band from 1998 – 2007, and also the title of their debut album. With Jac Bico, Leon Klaasse, Bart de Ruiter & Bart van Poppel.



"Emotional Nomads" proved to be a real breakthrough. "Painstakingly honest that's how I'd like to be" JP wrote in the cd booklet.
The critically acclaimed cd "Bad French" turned out to be their final album together (2007).



American Tune

Successful 2009/2010 theatre show American Tune (with Yvonne Ebbers).



A newly arrived European journalist sets out on an adventurous fact-finding trip from New York City to San Francisco. Somewhere along the twisted road he picks up disheveled Russian Elena, a former escort girl who dreams of starting a new life in California …..
Speak Diary

2011/13 Theater show ''Speak Diary" (with Yvonne Ebbers and Arnoud van den Berg)
"New tour, new cd, it has been the ongoing routine for 30 years running. Now it suddenly makes me feel a little uneasy…" For the first time in his life JP starts looking back. He takes a dive into his collection of teenage demo's and rerecords some of them. During the sessions he finds a new way to make peace with his past.
Storyteller
November 2013 Storyteller, live album (solo at Le Perron)
"A Country Boy From Groningen" highlights the story of a diffident young bass player, who decides to leave his rural northern town in order to follow his musical dream. "The Man, The Woman & The Dog" is a brand new live version of the old Tortilla classic (1971).
Album Store









Physical CDs available at the following link Cavalier Music Management >